On Friday afternoon, the game jam will begin in Thorvaldson room 271 (the "airplane room") before moving to the third floor of Thorvaldson's Spinks addition.
Workshop/Tutorial Location
All workshops are held in the Computer Science labs at the University of Saskatchewan: 3rd floor Spinks building, in the teaching labs S311 & S320.
Game Jam Location
The game jam itself will be held on the 3rd floor of Spinks building.
Presentations Location
The room for Friday's kickoff is Thorvaldson 271.
Map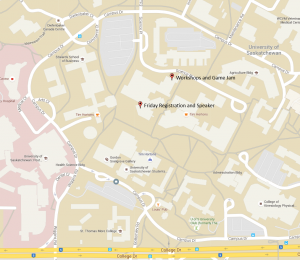 Parking
For Game Jam weekend, we recommend to park in F lot, located across from the Education Building. Parking in this lot of free after 5:00pm on Friday and all day Saturday & Sunday. All campus parking options are listed on the U of S Parking website.